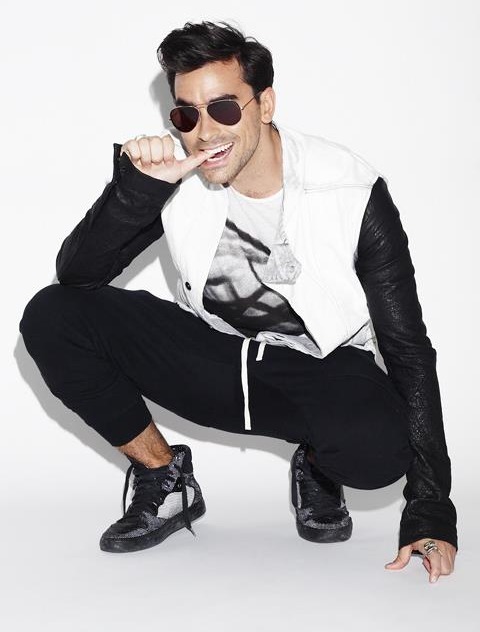 We love Dan Levy because he's successful at doing what he loves and we believe in following your passion. You may know him from MTV, but our favourite Canadian guy-on-the-go has been up to a lot since hosting The Hills After Show. We caught up with him to chat fashion, career advice and what projects he's working. Read on and get to know the witty, intellectual guy behind those amazing glasses.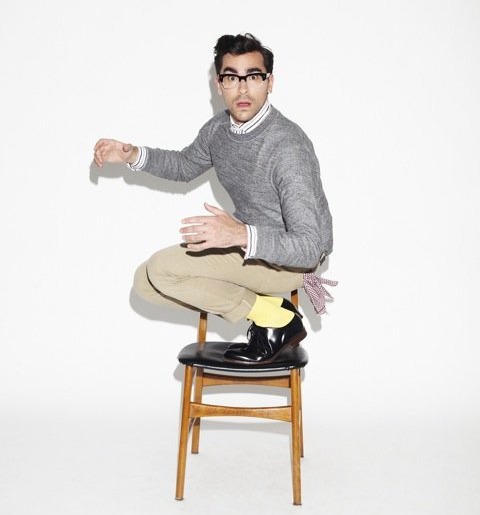 Christie: You act, host and write. What would you like to dabble in next?
Dan: I'm never happy unless I have a few things on the go. I'm currently in the midst of developing a scripted television show. I can't say much more at the moment but it's been a great learning experience. I'm also potentially about to dabble in the design world. Don't worry, it's not clothing. It's something I've been pursuing for a while now so I'm just testing the waters.
C: Who has been your most memorable interview subject from your MTV days?
D: Kelly Clarkson. She's the most genuine and down to earth "celebrity" I've ever had the pleasure of talking to. Such a great example of how fame and fortune don't necessarily come with an ego and an attitude.
C: How has your Canadian style been influenced by living in California?
D: California style is far more laid back than what I'm used to. I like to dress up and that's something that's rarely done here. So it's been a challenge. How do I adapt my aesthetic to a place where cutting edge style is a decaled Ugg boot?
C: You've been working on a style blog, The Sharpness, where does the inspiration stem from?
D: The Sharpness is really just a personal style journal. It's a way for me to accumulate all the things I find inspiring on the internet. And then I heard about Pinterest. So now I have to do that? I can't keep up.
C: You're one stylish guy: What are you loving this season?
D: I loved the Marni collaboration with H&M. Marni is one of my all-time favourite menswear labels and what they were able to create with H&M at such affordable price points was terrific. I'm also into all of the stripes that Dries Van Noten did this season. The pants, the tees, the jackets, I'd wear it all (if I had that kind of cash).
C: Guys are shy about trying new trends, what's a simple and easy way for guys to go from boring to fashionable?
D: There are two things guys can do to clean up their look. Number one: find a pair of pants that fit. I'm talking jeans that work for them in a size that doesn't sag. And number two: tuck a nicely tailored shirt into those pants. You'd be surprised how great we men can look if we just pull ourselves together in the most basic of ways.
C: How did you deal with hearing 'no' when first starting out in your career or even now?
D: I've always known what I'm capable of and I've always known that I would succeed at whatever I really put my heart and soul into. So anytime I'm told no, I just take it as constructive criticism to either re-evaluate what I'm doing or as motivation to work harder. Someone telling you 'no' is just one person's opinion. And for every 'no' there will undoubtedly come a 'yes'.
C: If my younger self knew ______, it would have done wonders for my professional development.
D: If my younger self knew not to care so much about what other people thought, it would have done wonders for my professional development.
C: When did you know you had found the career for you?
D: I still don't know that I've found the career for me. I'll always be curious and I don't think I'll ever be satisfied with just one career path. I like to explore. But in terms of hosting and acting, things that I've had some forms of success at, I have to say that it just felt natural and even when I'm working my a** off, it doesn't actually feel like work. That's a surefire sign that you're doing something you love.
C: What career advice do you have for our readers and job seekers?
D: I read an article once that said the easiest way to figure out what you want to do in life is to open your computer and take note of the first website you go to when you log in. For me it's always been entertainment or fashion based sites. It sort of makes sense if you think about. I thought that was such a great, easy tip.
C: What's one fun fact we don't know about you?
D: I've styled my dad (Eugene Levy) for every press event he'll be doing for American Reunion. Premieres, junkets, talk shows, you name it. It was fun. For the first time in his life he's learning about labels like Dries Van Noten, Jil Sander and Givenchy. And not to toot my own horn, but he's never looked better!
Are you an employer? Post your job here.
Are you a job seeker? Find fashion jobs here.