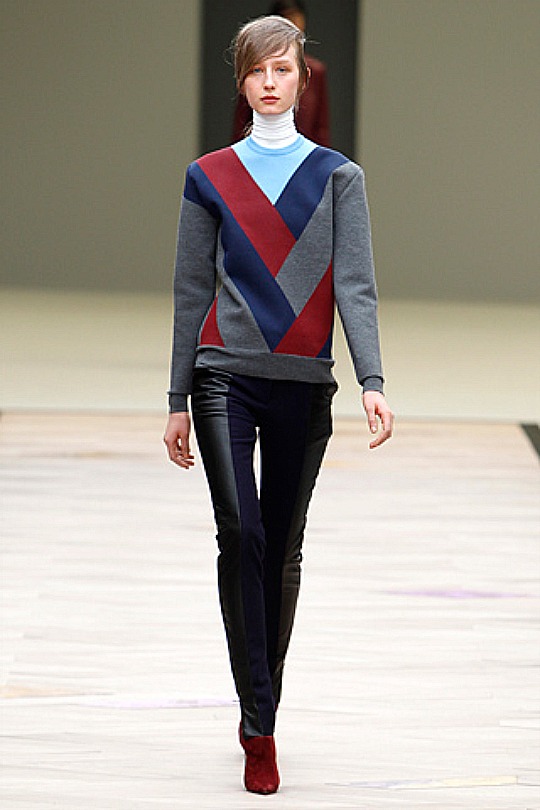 When winter winds have us in big wool sweaters, scarves, and furry boots, it's important to not forget about the statement pieces that make any wardrobe sizzle. This season, look to quintessentially cool skinny pants in metallic, leather, animal and hot geometric prints. Seen on the runways at Balenciaga, Celine and Derek Lam, these fancy pants make for great holiday outfits. Although they are, no doubt, attention grabbing, they can be worn as basics and paired with almost anything. We picked a few styles that are sure to make you look and feel like a Canadian rockstar.
1. Style inspiration: Céline Fall 2011 RTW. Image courtesy of Style.com.
2. Leopard Ski Pants by Ashish (Approx. $256 CAD), available at Topshop.
3. Sequin Leggings ($39), available at Joe Fresh.
4. Disco Pant ($92), available at American Apparel.
5. Geometric Print Trousers ($79), available at Zara.
6. Leather Trousers ($384.90), available at Mango.
7. Gilded Jacquard Crops ($148), available at Anthropologie.
By: Sophia Loffreda, Montreal
You should follow me on Twitter @sloffreda.
Are you an employer? Post your job here.
Are you a job seeker? Find fashion jobs here.