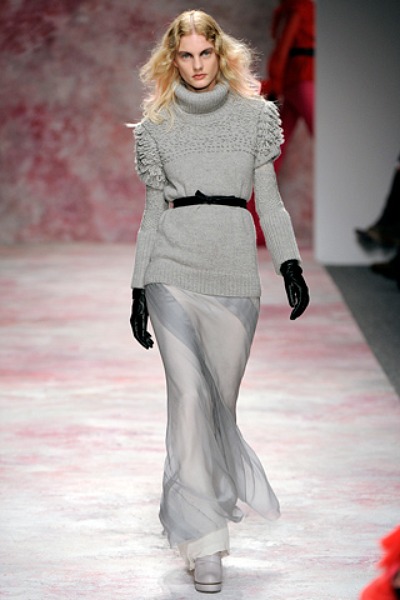 Wearing a black power skirt every time you're trousers are in the wash can get a little… well, boring. This winter, try a whimsical look and opt for a long flowy maxi skirt instead. Mary-Kate and Ashley have been rocking this romantic, boho inspired trend since their early days – proof that the look has no height requirement. Although the look originally caught fire this summer, you can easily transform summer's floor length wonders into winter staples. Marc Jacobs, Louis Vuitton, Michael Kors and Ralph Lauren all went long for their fall 2011 RTW collections. Simply look for long skirts in darker colours (brown, burnt orange, mustard yellow, army green, navy) and winter-friendly fabrics like suede, cotton, velour, and denim.
1. Inspiration: A look from the Prabal Gurung fall 2011 RTW collection. Image courtesy of Style.com
2. Alice + Olivia Shannon Pleated Long Skirt ($291.40), available at Shopbop 
3. A-Line Shaped Maxi Skirt ($59.95), available at Mango.
4. Pleated Maxi Skirt in Mustard Yellow ($23.80), available at Forever 21.
5. Steven Allen Margot Printed Polka-Dot Silk Maxi Skirt ($225), available at Net-a-Porter.
6. Flared Long Skirt with elastic waistband ($79), available at Jacob.
7. 1969 Long Denim Skirt in Indigo ($79.95), avaialble at Gap.
By: Sophia Loffreda, Montreal
You should follow me on Twitter @sloffreda.
Are you an employer? Post your job here.
Are you a job seeker? Find fashion jobs here.