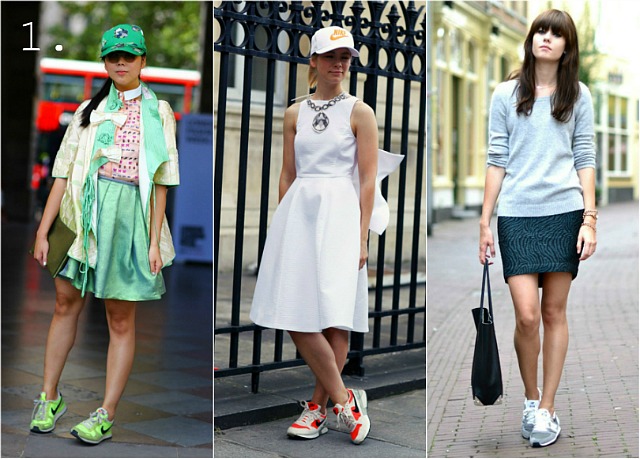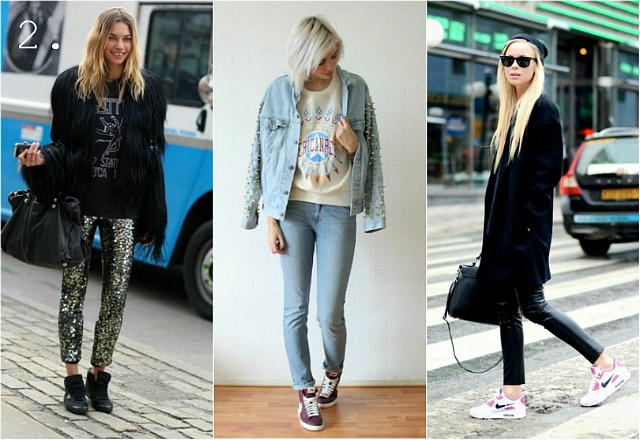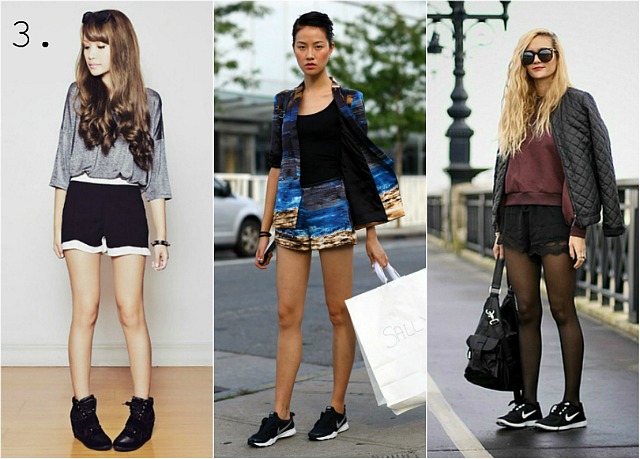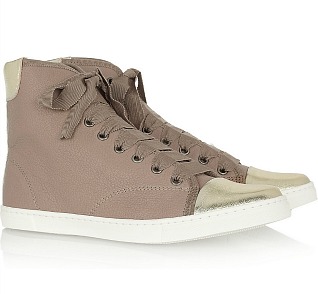 The time is ripe for a little ode to kicks. In years past, I would not have been caught dead writing a blog post about wearing sneakers outside the gym, but as times change and trends emerge, I am actually on board when function meets fashion. Reasons for the call to action are mainly because sporty, casual fashion attire needs equally athletic accessories and because they are a superb accompaniment to skinny jeans, I suggest going full force with a fun pair of color blocked trainers. Athletic sneakers are classic, and though you can't pair them with everything, you cannot go wrong with a black or white pair. Just wear what feels comfortable, unless comfortable equals really alien-looking sneakers.
For the less die-hard, follow these simple guidelines: low-tops with dresses, skirts and relaxed trousers, and high-tops for skinny jeans. Low-tops go best with skirts and shorts because they avoid the dreaded "cankle" effect that high-tops may cause. However, high-tops are great with skinny jeans – tuck the ends into the tops of your sneakers – because they further accentuate the long, slim cut of your pants.
1. Style Inspiration: Sport Luxe Streetstyle, image courtesy of Going Teen
2. Style Inspiration: Downtown Cool Streetstyle, image courtesy of Going Teen
3. Style Inspiration: Urban Chic Streetstyle, image courtesy of Going Teen
4. Zara Colored Sneaker, $90
5. Nike Free Training Twist Trainers in Mint, $140, available at ASOS
6. Giuseppe Zanotti Suede Trimmed Sneakers, $485, available at SSENSE
7. Lanvin Metallic-trimmed Leather Sneakers, $730 available at Net-A-Porter
8. New Balance New Sky 101, $40
By: Emily Gray, Vancouver
You should follow me on Twitter @litlmissfashn.
Are you an employer? Post your job here.
Are you a job seeker? Find fashion jobs here.