RETAIL: the after-school job that turned into a rewarding career. The retail industry is not just about selling clothes, and it's definitely not just an after-school job anymore. Retail is an industry that fosters many successful creative and leadership careers.
If you see yourself wanting a career in a retail environment, I have some tips and tricks for you to succeed in a world of cropped tops and skinny jeans.
1. Accept the retail schedule: If you want to get ahead in the retail world, your hours of commitment every week will not be consistent. Is that such a bad thing? For myself, over the years, it has allowed me to organize my time off, and make the most of it. Does that mean you should give up your life to sell t-shirts and hoodies? Nope, it just means that you should not expect your retail job to be a M-F: 9-5, which is not what you want anyway is it?
2. Be a leader: Even if you are not in a management position, it doesn't mean you can't be a leader. This is the number one quality when I hire anyone at any level. Do you have a sense of leadership? Will you try to find a solution before quickly asking? Will you use your resources to solve a problem, before bringing it to your supervisor?
3. Dress to impress: How will you ever convince anyone to give you a promotion if you wear that sweater with the seam coming undone, and a pair of Uggs to work? The answer is, you won't. Make sure you put thought into your own outfitting. Just like financiers and lawyers wear suits to work, you must embrace the trends and dress to impress. This tells your peers, and your supervisors that you are serious about your role. You do not have to spend big bucks to achieve a professional but trendy look (see my example below).
4. Ditch the break-room gossip: No seriously, do not say a single negative word about someone else, that is just not productive in the slightest. If there is a valid issue, take the time to address it with a supervisor. Never complain to peers, that gets you nowhere.
5. Have fun: working in retail means you get to socialize with people all day! Have fun with it, be genuine with your customers, get to know them, you never know what kind of amazing connection you'll make! I have made great friends, just by getting to know my regular customers.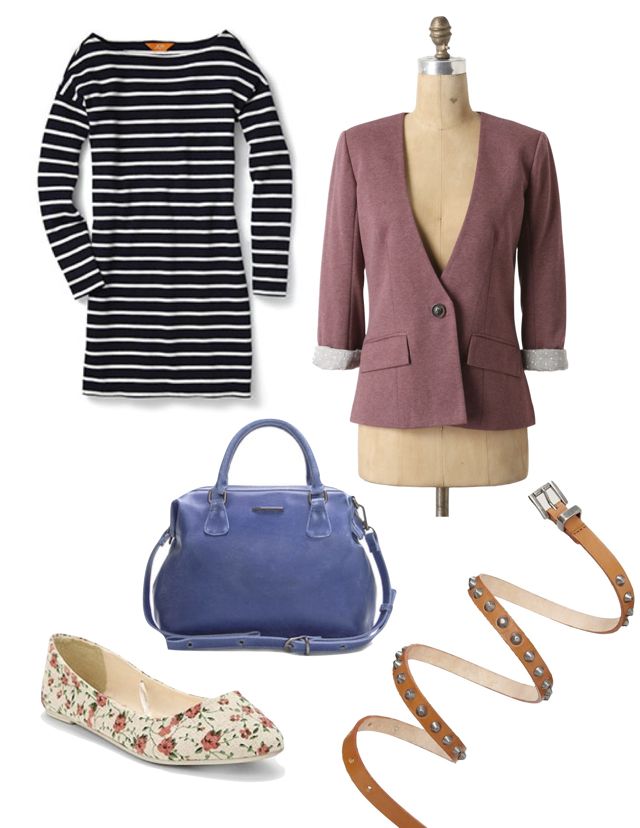 Product details:
Striped Long Sleeve Dress $29: Joe Fresh – Joe Fresh Vancouver located at: 540 Granville Street; Joe Fresh Toronto (one of) located at: 589 Queen Street West; Joe Fresh Montreal (one of) located at: 395 Jean-Talon Ouest
Sans Collar Blazer $98: Anthropologie - Anthropologie Vancouver located at: 2912 Granville Street (South Granville)
Anthropologie Toronto located at 80 Yorkville Ave, or 19 Clock Tower Road
Blue Satchel Bag $125: MATT & NAT online -OR Plenty Stores carry MATT & NAT products in Vancouver; For stores in Toronto & Montreal visit mattandnat.com.
Kimchi Blue Ditsy Floral flats $29: Urban Outfitters: Urban Outfitters in Vancouver located at: 830 Granville Street; Urban Outfitters in Toronto located at: 481 Queen Street West, or 235 Yonge Street; Urban Outfitters in Montreal is located at: 1246 Ste. Catherine Street, or 4301 St. Denis Street
Skinny Studded Belt $30: Gap - Gap Vancouver (one of) is located at: 1121 Robson Street; Gap Toronto (one of) is located at: 3401 Dufferin Street; Gap Montreal (one of) is located at: 4210 St-Denis
By: Jo BouSaleh of Hunter and Hare, Vancouver
Are you an employer? Post your job here.
Are you a job seeker? Find fashion jobs here.